Once you go blacksmith, you have cool stuff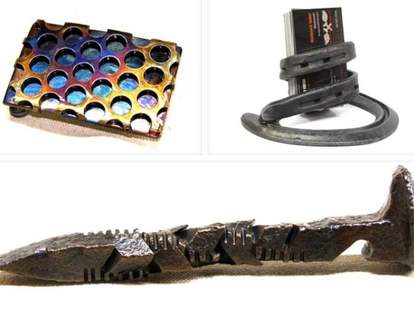 Everyone knows "where there's a will, there's a way", but too few know "where there's a willway, there's... a lot of cool trinkets and stuff made of iron". Seeking to change that forever: Willway Forge, e-hawking metalworks hand-blacksmithed in Virginia Beach by a guy who discovered his passion after serving 20yrs in the Navy as an "Aviation Metal Smith", aka the title of Iron Man back when the Fresh Prince was set to star. Some of best:
Guitar Hanger: With a seamlessly incorporated clef, this axe-holder is described as "very strong", and was dreamt up out of his desire to better show off his guitars, "including a Rock Band guitar", so, not very strong.
Belt Buckles: Should you need something to match your enormous iron cowboy boots, he's got one beautifully colored by the heat of a fire, a simpler number reading "Veritas Aequitas" ("Truth and Justice"), and a third fit with an actual, curved antique wrench.
Railroad Spike Bottle Opener: Twisted every whichie-way and left purposefully scarred, these ruggedly authentic tools will both pop your cap, and prove the old adage that "where there's a Willway, there's also... a train hurtling toward some really unsafe section of track somewhere".