Jack Daniel's Studio No. 7 Brings Trombone Shorty to Atlanta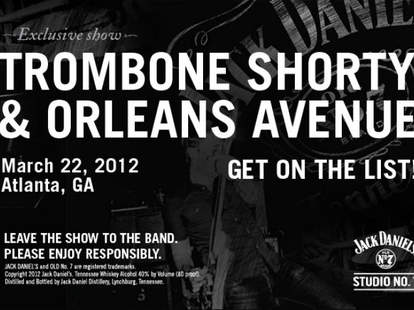 What: Click to score an invite to the next installment of the Jack Daniel's Studio No. 7 concert series, and catch a new generation of musical greatness born on the bayou: Trombone Shorty -- who is not the girlfriend of a sliding brass aerophone, but the one-man hip-hop-jazz-funk hybrid from the Big Easy, as true to his hometown roots as Jack Daniel's is to its native Lynchburg, Tennessee.
Where: The place some call "Dallas With Trees", a.k.a. Atlanta, GA
When: March 22, 2012 -- the 18th anniversary of ice-dancing angel Tara Lipinski triple toe looping into the hearts of millions
Why: Because charcoal-mellowed refers not to tunes gone timid, but the distinctive flavor of a legendary whiskey
Check out the website www.JDStudiono7.com, or like Jack Daniel's on Facebook at facebook.com/jackdaniels for more information on how to receive an invitation to this exclusive invite-only event.