Jack Daniel's Studio No. 7 Hosts the Dandy Warhols' Portland Blowout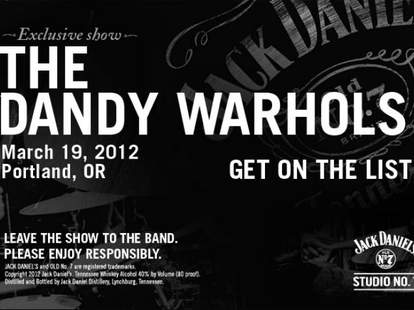 What: You could spend your evening screen-printing bananas onto album covers, or get more than just 15 minutes of pleasure by clicking below for an invitation to the next installment of the Jack Daniel's Studio No. 7 concert series, starring Portland's own Dandy Warhols, the art history appropriatin', garaged-turned-synth quartet who've stuck to their guns every bit as hard as Jack Daniel's Southern mash.
Where: Right here in the PDX
When: March 19, 2012, or the glorious 81st anniversary of legalized gambling in Nevada
Why: Because charcoal-mellowed refers not to tunes gone timid, but the distinctive flavor of a legendary whiskey
Check out the website www.JDStudiono7.com, or like Jack Daniel's on Facebook at facebook.com/jackdaniels for more information on how to receive an invitation to this exclusive invite-only event.