Think Small: The MINI Cooper Hardtop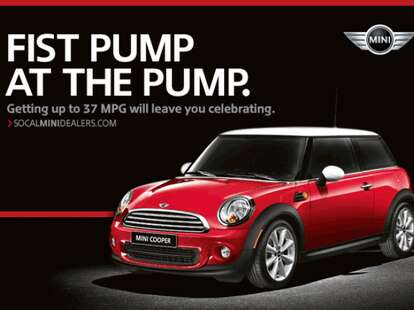 If what they say about good things in small packages is true, then things that come in MINI packages must be even more excellent. Case in point, the iconic MINI Cooper Hardtop -- a nimble, fuel-sipping vehicular bulldog just waiting to be unleashed.
Appealing to both your sense of adventure and plain old common sense, the MINI Hardtop not only comes complete with a super safe 6-Airbag System and an eco-friendly fuel economy of up to 37mi to the gallon*, but can also reach speeds of up to 126mph. What's more, the MINI Hardtop can be customized thousands of different ways, unlike, say, your legs, which only come in "Hairy", and "I Swear I Only Shave Them to Lower Wind and Water Resistance."
To learn more, check out SOCALMINIDEALERS.com, and for your next asphalt adventure, choose the MINI Hardtop -- because what really needs to be unleashed, is you.