When one day just isn't enough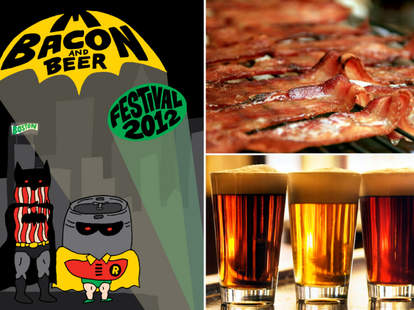 Because much like the best Nic Cage movie to ever feature Christopher Eccleston, last year's tickets were Gone in 60 Seconds, the egalitarian at Eat Boston has turned the third iteration of his wildly popular one-day gorgefest into a week-long extravaganza of pork, art, beer, and potentially horrible, horrible singing.
So as to ensure you spend a month in swine detox, plan on hitting:
The Main Event: The for-charity bash's taking over House of Blues and showcasing all-you-can-eat, pig-inspired treats from over 15 area spots like Trina's Starlight Lounge, Evoo, and Pennypackers, all washed down with suds from 20-plus breweries like Revival, Cody Brewing Company, and New Planet Beer, which beats the pants off of Old Planet Sarsaparilla.
Karaoke On The High Seas: Assuming you prefer your hog on a boat while humming ballads from Pig Destroyer, don't miss this three-hour jaunt around the harbor complete with suds from Smuttynose/ Dogfish Head, bacon bites via popular food truck's Staff Meal and Roxy's Grilled Cheese, plus enough SWV songs to make even a professional singer Weak.
Bacon On Canvas: Or maybe you enjoy pork candy in a more sophisticated setting, like PA's Lounge, where Left Hand Brewing, Clown Shoes, and Stone Hearth Pizza Kitchen (among others) will adequately stuff your black-turtleneck-covered gullet while you point out that many of the bacon-inspired works from over 20 artists look like knock-offs of expensive "Cy Twombly works" you've recently acquired from Uprise Art.
And for those who love pork but don't like to be tied down by tickets or dates or eerily accurate renditions of Sisters With Voices songs, BBB12's also rocking individual bacon & beer pairings at as-of-yet-undisclosed restaurants around the Hub, though like most recent Nic Cage films, they'll only be around for the one week.