Your new Mid-Wilshire sandwich fix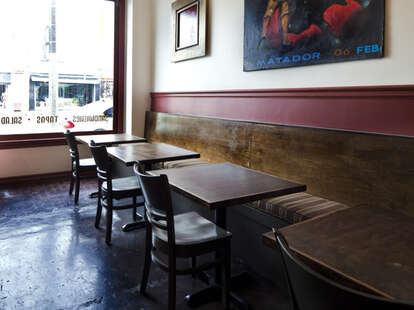 Finally open after months of whisper-in-the-ear teases, Marcona's an East Coast-inspired sandwich shop 'n deli with an eating area that looks kind of like a sitting room you might find in an old colonial home, w/ aged-wood chairs and banquettes, a giant Melrose-facing front window, and shelves stocked w/ high-end grocery goods like balsamics, olive oils, and chips, which Nick Nolte'll only purchase if they're Blue.
The food's from a dude who worked in a buncha Michelin-starred Chi-town restaurants, with sandwich creations including the Lomo (spiced pork shoulder, roasted parsnip, date mustard & charred red onion on ciabatta), the sliced-rye-hugged "Spiced Salmon" (w/ fennel & orange zest), and the Spanish Gyro: a pita stuffed w/ merguez lamb sausage, piquillo peppers, sheep's milk yogurt & baby greens, which A.C. still promises he will never, ever have. Unless they're adopted. Sides're made with love, like Mediterranean potato salad (w/ olives & sun-dried tomatoes), white beans w/ mint, and a section of the menu called "Unique Picklings", which features vinegar'd-up options such as Thai cucumbers done in cilantro, daikon, jalapeno & lemongrass, and a corn, cucumber, cauliflower, radish, red pepper & thyme concoction they call the "Chow Chow", also how Mussolini said goodbye to his petite, square-in-profile dog.
Because you're awesome/timely, the first 50 people to mention Thrillist when buying a sandwich'll get one of those sides for free, unless you want Nolte's blue chips, in which case you'll need to fork over a Lexus, a tractor, a bag of cash, and a house & job for Mrs. McRae.