Sunglasses cut from bamboo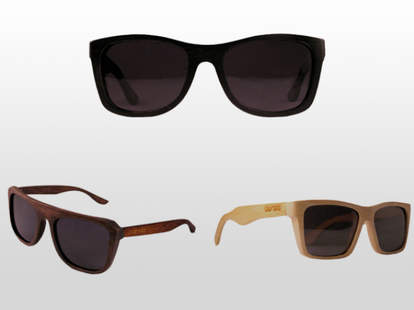 Ultra-hard. Unbreakably rigid. These are just a couple of the ways to describe you after catching a glimpse of the beautiful bamboo shades made by Panda, who're based right here in the good ole District of Columbia.
The eco-friendly frames are actually milled and handcut in a workshop in Linhai (the one in the Zhejiang Province, not the one you're thinking of) before being fit with polarized, biodegradable lenses, but all the design takes place in Georgetown's Paper Mill, which is tucked right off the C & O Canal and apparently has a "long history of craftsmen", unlike the rest of Georgetown, which just has a long history of tools. Their five styles are all lightweight, water-resistant, and available in black, brown, or "natural", including the smaller "sleek sporty" Robinson that look a bit Nicholsonian, the aviator-esque Monroe, and the slightly surfier, squared lens Kennedy, which should never be worn in the same room as the Monroe, even though everyone totally knows they're together. Panda's also partnered with the TOMA Foundation (Tribal Outreach Medical Assistance, whose reach spans from South America to India), and, for each pair sold, will provide a person in need with an eye exam & prescription glasses to ensure they receive "the gift of vision", despite multiple characters on Charmed insisting that it's more of a curse.
They'll soon be dropping new designs with mirrored lenses and brighter colors like blue and gold, just in case you want some more flash -- though that's definitely something you should hold off on doing until your raging excitement over seeing these glasses dies down.