A biologist drops science on beers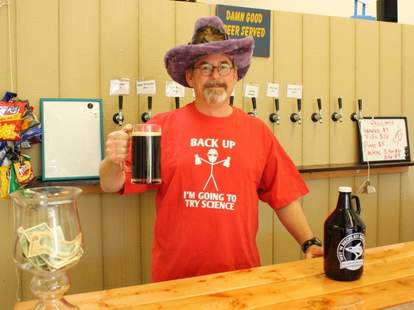 Currently brewing suds in adorable one-barrel batches, Wet 'N Reckless is Miramar's smallest nano-brewery, housed in a garage (just 2.6 stone-throws away from the new Green Flash facility), where their biologist/ long-time-homebrewer cooks up envelope-pushing brews and stores all of the things he "can't have anymore" because of his girlfriend, which includes a lot of Burning Man posters and fun. And Burning Man posters.
Get ready to enjoy the crud out of:
Pop My Cherry Ale: Named by the same girlfriend who hates his Burning Man posters yet is still awesome enough to come up with dirty names, this pale ale is lightly hopped with a central flavor imparted by "a bunch of tart cherries".
Genocide IPA: Though its name isn't quite as catchy as the previous ale, this IPA is pretty killer, thanks to hints of caramel, a moderate 60 IBUs, and a title that comes from the Columbus hops used in the brewing process.
Super Ridiculous Stout: Getting you zany with its 9% alcohol content, this double-chocolate/ oatmeal/ milk imperial stout uses Trappist ale yeast and is imbued with "a slight Belgian character" that's Van Damme unique.
Brainbuster Barley Wine: "Basically an IPA on steroids" with 90 IBUs, this dangerously drinkable barley wine tricks you into thinking it's your friend with a smooth, malty profile, until you realize it's your best friend when the 13% ABV kicks in.
In the future, look for some pretty crazy experimental stuff, as dude just brewed his first batch of sake using ale yeast, and while it may need a little polishing, it certainly won't leave your throat burning, man.