As Cuban as that guy in <em>Scarface</em> who wasn't Al Pacino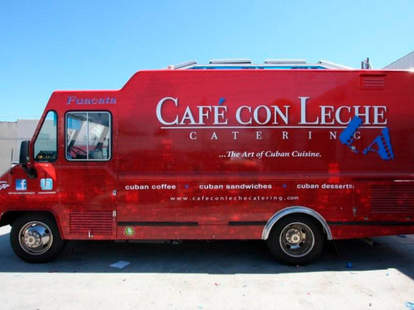 For the most authentic Latin food to come from LA since Taco Bell made hard taco shells with something besides snack chips, try Cafe Con Leche. The LA-based operation that appeared on Food Truck Wars last summer is rolling into Dallas with a truck serving serious Cuban vittles, including:
Apps: Start off with stuffed-yuca beef papa relenas, empanadas (guava/goat cheese, chicken, steak, Cuban...), or ham/chicken croquettes, like Gemini Croquettes in that it's important to Fhloss after eating them.
Sammies: Served on grilled Cuban bread, these include the Scarface homage Manolo (marinated grilled steak, Swiss, tomatoes, grilled onions, special sauce), the Cuba (special-mojo-marinated roasted pulled pork, sweet ham, Swiss, mustard, pickles), and even a solid vegetarian option that, unlike any Porky's scene not featuring Tony Ganios, isn't ruined by not having Meat in it.
Wash down your meal while making your mind frantic with their eponymous bevvy: coffee brewed directly onto sugar, mixed with milk, and dabbed with salt & butter, all guaranteeing that you won't Live Más.