A Mid-East kabob-ery in Sandy Springs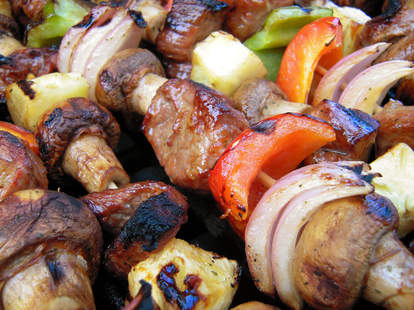 Because you'll look way better after too many kabobs than too many ka-weaves, head over to Ariana, a new hideaway of authentic Afghan-style sticks-o'-meat boasting a modestly Arab-esque, orangey interior filled with plants, wall-hung maroon rugs, and a chandelier with lamps shaped like a trumpet bell.
Their 18 char-broiled meat-wands are served sizzling w/ rice, chutney, homemade Afghan bread, and a veggie, and range from chicken tandoori, marinated sirloin, and herbed seafood (salmon, shrimp, tilapia), to lamb chops and chunks of veal they describe as "so tender", also what former Mets pitcher Jae calls the dude he hired to make him drinks.
You can also get traditional with light apps like Buranee Kadu (pumpkin cooked in olive oil w/ fresh tomatoes), meatier ones like a fried ground beef pastry, North Afghanistan's Qabeli Palaw w/ lamb, brown rice, carrots, raisins & almonds, and Aushak: meat-sauced, leek-filled dumplings -- finally, dumplings that're supposed to leek!
The not-so-bitter end includes baklava, pistachio-topped rice pudding, a mound of shaved ice topped w/ syrup, dessert noodles, and vanilla czala (Afghan ice cream), and a yogurt shake known for inducing post-meal drowsiness dubbed "Dough", which you should really stop spending on all those weaves, unless you're just totally faded.