Stealthy shopping in VaHi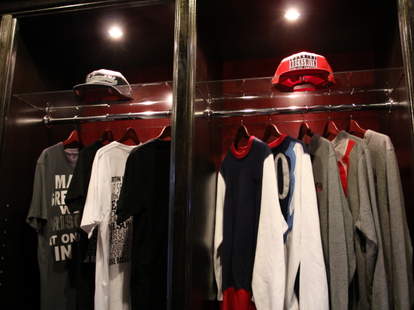 Opened by a 16yr fashion vet from Brooklyn who set up shop in ATL after having trouble finding the right mix of inexpensive and premium gear while visiting, Threadz is peddling men's casual and street wears amongst shiny black wood floors, plus in a secret, private shopping area modeled after Boston's famed clandestine sneaker lounge Bodega, at which the only St. Ides is an actual saint, who shops there, because the sneakers are fantastic.
Inside you'll find:
Wears: Because they also know there's nothing worse than seeing some loser with the same Coed Naked Tetherball shirt, they stock two of each item at most, including True Religion sneaks, Bengi Japanese selvage denim, Plain Jane cardigans featuring thong-dropping dancer logos, and tees from brands like Delta Nine, whose designs include "Tokey the Bear" and another rolling "cigarettes" with some mysterious green substance -- cop those joints!
Private Shopping: The red dressing room wall in back is actually a rotating door leading to an exclusive buying room equipped with a couch, a TV with Netflix and PS3, and bubbly. Make a Monday appointment, swear you'll drop at least $500, and they'll have every piece of gear you want waiting in your size, including up to 6XL and a 44 in pants, in case you want the coveted "DMX going through airport security" look.
Local Love: Once every month a different in-town company'll take over the floor, for which they'll pull everyone else's similar stuff (i.e., if they make hoodies, they pull all the other hoodies; if they make hats that make you look like Lion-O from ThunderCats, God bless 'em) and leaving only other brands' accessories so you can piece together an outfit.
Tomorrow night's the grand opening, with gratis rum and vodka courtesy of Cayrum and Victory, giveaway swag (stickers, hats, tees), and deejayed sounds provided by the folks from BeatLab -- though what do you expect people to call it if you're getting your chemistry equipment from a bodega?