My Ceviche can also be yours, thanks to Chef Sam Gorenstein (BLT, The Raleigh) and Roger Duarte (George's Stone Crab), who're plating crustaceans and ceviche-ized local fish at actually affordable prices, bringing it "from the ocean to your door in 24 hours", while also letting you enjoy it inside the South Beach Hostel, just steps away from Joe's... yeah, sorry about that, Joe's
First, pick a seasonal protein guaranteed to have not been out of the water for more than a day, including charred octopus, grilled shrimp, and raw yellowfin, then have them either toss it into Aji Amarillo (Florida citrus, mint, red onions), Coconut (coconut water, lime, red onions, avocado), or Rocoto (cilantro, sweet potato, roasted red peppers, corn), or plop it into tacos/burritos w/ pico de gallo, lime-jalapeno aioli, and salsa verde & roja, even though a place this delicious will hopefully never be in the red
Recommended Video
Spinach and Artichoke Dip Pizza, the Ultimate Party Appetizer
Also here to battle Fun Dip for your stomach's attention are queso-smothered grilled corn, cilantro coconut rice, and glazed sweet potatoes, plus orders of George's stone crab claws ranging in size from medium (6-8 claws) to colossal (1-2), all paired with a trio of sauces: horseradish dijonnaise, lime-roasted jalapeno, and classic mustard, who predictably took out Mrs. Peacock in the conservatory with the lead pipe again. Just classic
Although it's primarily take-out and delivery (from 3rd-40th St), you can also counter-order and plop down at the hostel's liquor/beer-stocked bar, if you can manage to steal the seat of some very average Joe.
Previous Venue
Next Venue
Venue Description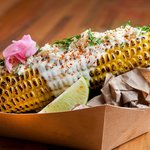 1. My Ceviche
235 Washington Ave, Miami Beach, FL 33139
Raw fish is the name of the game at My Ceviche, a Miami favorite serving up ceviche bowls, burritos, burrito bowls, tacos, salads, and sides that highlight fresh-from-the-ocean seafood. If it's poke you're looking for, it has that too, in options like wasabi sesame and ponzu shoyu. This fast-casual spot is a hit around lunchtime, so though you should prepare for a bit of a wait, remember that charred, fresh, briny goodness awaits you on the other side.