Because tomboyish Kristy Swanson is obviously very busy right now, the cocktail whizzes behind The Randolph made the hot star of their awesome program ale, opening the new Randolph Beer in what could be mistaken for a farmhouse owned by Robert Downey's Sherlock Holmes: old KY tobacco barn wood, gas pipe taps & footrails, a bottle rack made from highway pavement mesh, and hanging fixtures pulled from Model T's. 36 crafty drafts are domestically focused & spread over 48 taps, and an intense focus on quality control has led to independent coolers for keeping individual beers at their ideal temp, meaning you can get the perfect pour of Barrier Brewing's Oil City Black IPA, Stone Levitation's Pale Ale, and Mikkeller's Beer Geek Breakfast, an oatmeal & coffee stout designed to get you toasted. Just like Sting & Kyle MacLachlan in Dune, the two chefs are "super interested in spice", resulting in Pacific Rimfluenced bites of "Good vs Evil Sprouts" (maple & bacon on one half, Japanese chilis & lemon on the other), horseradish-/mustard-dipped "Pigs in a Sheet", and a burger that's "all Dolph'd Up" with cheddar/smoked bacon/fried egg/sambal aioli, oddly keeping you from looking like a He-Man yourself. There's even some not-yet-sure-what-it'll-be-used-for "storage" space they describe as "the tattoo peeking out from the proper attire", possibly due to the fact it's decorated in loads of street art from MADSTEEZ, something people in other Programs attained by wearing shoes that spell A.D.I.D.A.S.
Recommended Video
Mini Chicken Pot Pies: Big Homestyle Flavor, Endearingly Tiny Portion
Previous Venue
Next Venue
Venue Description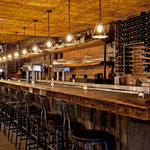 1. The Randolph at Broome
343 Broome St, New York, NY 10013
With homey and wood-heavy decor (think bricks walls with wood accents, wooden keg chairs, worn-wood counters, etc.), this laid-back Nolita spot's serving the best of both worlds: quality hand-brewed coffee and espresso by day, and innovative East Coast-style cocktails by night. Want your coffee IN your cocktail? They do that, too. One of the best beer bars in BYC, the Randolph at Broome features more than 30 well-curated taps that rotate seasonally, as well as a reserve beer menu built from specialty and hard-to-find beers, making this a great spot for serious hop-heads, or casual beer drinkers. The dinner menu is everything you want from a beer bar -- from small plates like pork sliders, hummus, or calimari, to burgers, BBQ ribs, and more than a few salads. The Randolph is also open for brunch and -- get this -- serves breakfast till 4 p.m.