LM's corner bar in Ravenswood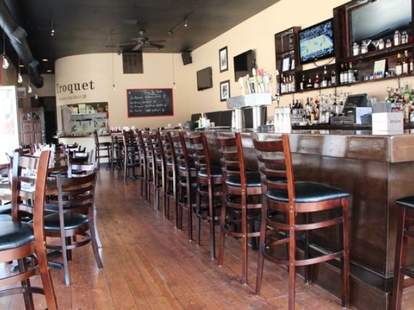 Every culture has its version of the local watering hole, from the Japanese izakaya, to the German bierhaus, to the American... Irish Pub. Evincing the Gallic take on that tradition is Troquet, both a French term for "neighborhood bar", and a new eat-and-drinkery in the former Wolcott's space, which has been warmed up with hues of red & cream, an open kitchen, and plenty of black & white French scenes, hardly as black & white as German scenes. Those dudes are mad literal!
Rotating charcuterie (coppa, saucisson sec, etc.) and cheeses are accompanied by house apricot compote, the daily quiche could be anything from tomato & brie to broccoli & cheddar, and wine-and-herb-broth mussels come with a baguette from Red Hen, a light-enough bite that you won't become the cock of the "I don't walk". Sammies and large plates are all sub-$12 (and're always plated w/ fries & a side salad), whether you opt for a traditional Croque Madame, a leg of duck confit, or a daily catch such as Scottish salmon w/ caper sauce, something you'd have to hit a lot to think Barbara Stanwyck was hot enough to get anyone to kill her husband.
Saving you mental anguish, the vino offerings are kept ultra-tight (three reds, three whites, one sparkling), while the 11 draft brews include local craftiness from Revolution and 5 Rabbit, plus Kronenbourg 1664 from Alsace, a French territory that once belonged to Germany, if you want to be as literal about it as they are.