Wine vaults, adults-only pools & cabanas with mini-bars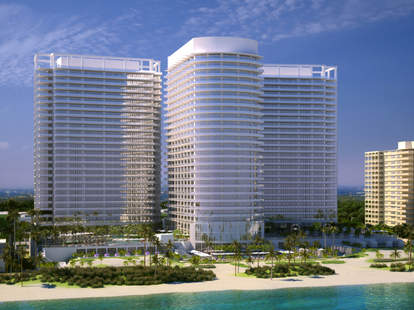 Vacations're responsible for most of the stories you tell folks at home, from that time you swam with dolphins in Belize, to that time you went to an abandoned theme park and shot John Candy in the ass. For another vacation experience worth Chase-ing, check out Miami's new tri-glass-towered St. Regis on Bal Harbour beach.
And before you brazenly shout "but, what'll it be like to bring my talents to near-South Beach?!?", check yourself and this sample itinerary, complete with pre-embellished stories to bring back:
What you'll say you did: Sprang out of your Egyptian cotton-wrapped king-sized bed to take in the sun from your private, ocean-facing balcony. What you'll actually do: Stay in bed, look at the ocean from your wall of floor-to-ceiling windows, then watch Bad Boys on the monster flatscreen setup across the bed. It is, as the film displays, too dangerous to go outside.
What you'll say you did: Enjoyed every inch of the 13000sqft spa, taking full advantage of the massage/facial/bath Couples Suite, scoring hits of oxygen at the O2 counter, and relaxing in the sauna or hot tubs. What you'll actually do: In-room massages, then a long shower or bath in the marble-wrapped, five-piece bathroom, before watching Bad Boys II and reaffirming why you're not going outside.
What you'll say you did: Relaxed in the waters of the ocean-front, tranquility, and adults-only pools, before diving into the salty Atlantic, which you accessed through their private beach. What you'll actually do: Glance at the water from a private cabana, outfitted with another TV, a mini-bar, a fridge, and WiFi, which you'll use to check IMDB for news on Bad Boys III.
What you'll say you did: Used their 24hr butler service to finagle entry into the hottest Miami restaurants and clubs, then partied the night away. What you'll actually do: Stay on-site, sipping from 2500+ vintage bottles in their Wine Vault before going back to your suite for in-room dining from Jean-Georges' J&G Grill like black truffle pizza & apple-jalapeno pureed soy-glazed shorts, which you'll be wise to wear considering this is easily one of the sunniest places in the (Walley) World.