This girl wants to take you skiing in Alaska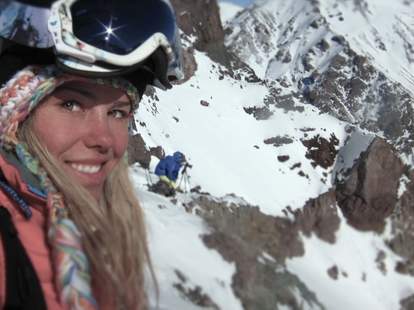 The best way to learn something is to watch the pros do it, or at least that's what you'll have to tell your girlfriend if you keep forgetting to clear your browser history. For an up-close-and-personal chance to see pros skillfully use other types of poles, check out EpicQuest's just-launched Guest Host Program.
Already offering heli-ski/snowboard tours, Girdwood-based EpicQuest is now also giving you a chance to carve up the Chugach Mountains in Alaska (which've been dusted with over 500in of powder this season) with help from industry pros whose resumes are studded w/ X-Games medals, mag appearances, and even awards for "Line of the Year" (likely first won in 1991 by The Dinosaurs's Baby Sinclair for "Not the mama"). EQ's packages include a stay at The Hotel Alyeska, lunch on fly days, etc... plus tons of on-/off-slope opportunities to interact with a guest pro, who this spring include skiers like X-Games medalist Zach Crist, and TV-host/model/Junior Olympic champion Lynsey Dyer, whose myriad awards include winning "Powder's Film Segment of The Year" in a huge upset over the part where he makes Harley feel the pain and fear of the dying, ensuring he never takes another life.
If their standard packages are too long (!), EQ also has single-day trips that're sans accommodation but do guarantee five to eight runs on 16000-20000 vertical feet, plus they'll even tow you into their private terrain on days when the helicopter, like your effort to sex your girlfriend after her online discovery, is going nowhere.