The Celtic Swell dude does Belltown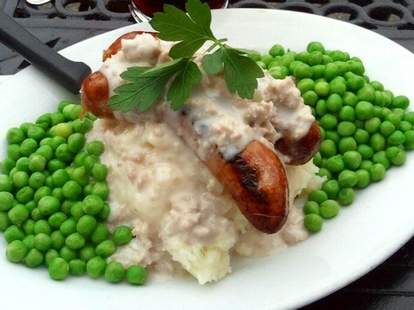 They say the Irish are only good at telling stories and opening pubs, and, given the recent collapse of their banking industry, they very well may be right. For a good story about a pub opening you can actually bank on, read more about C.S. Finnegan's Irish House.
Opened in a former grocery by the dude behind the presumably-not-very-big Celtic Swell on Alki, this wood-heavy boozer is dominated by a handbuilt mahogany bar, boasts a second drinking nook on a refurbished mezzanine, and features a menu laden with traditional Irish dishes that've been in the owner's family for generations. House specialties include a Shepherd's Pie topped w/ hand-whipped garlic mashed potatoes; pork Sausage Rolls w/ sweet-hot mustard & a Guinness demi-glace; and a lamb/onion/potato Irish Stew served w/ homemade soda bread, which Dr. Pepper now spends most of his time counting. Additional eats include pub fare (a corned beef melt w/ Swiss on marbled rye), seafood (baked halibut in lemon butter sauce), and desserts like an ice/whipped cream topped bread pudding, the latter of which'll presumably cost an amount of the former no greater than $240. Awwwwwww, yeah.
As you'd expect from an Irish pub opening on St. Patrick's Day, CSF's doing it big; from 11a they're packing a heated tent with two bars, tons of swag, and a slew of bands ranging from The Shivering Denizens, to a group whose name, The Irish Experience, presumably has a damn good story behind it. Hopefully involving at least three ferocious Celtic tigers.