Portland, now in Paris. Get there.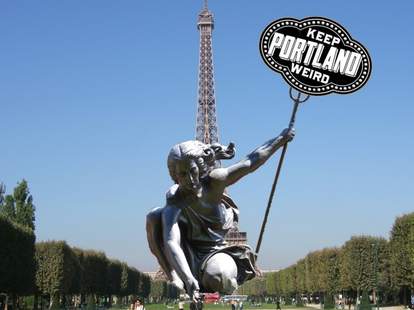 As a major cultural center in Paris, La Gaîté Lyrique's stated mission is to explore the world's cutting-edge art and music, leading to festivals honoring Berlin, Istanbul, and next month, Portland. Obviously. So basically, this means now's your chance to stop being a tall-bike-riding PDXer lost amongst the other tall-bike-riding PDXers, and start being a tall-bike-riding PDXer, getting totally laid, on your tall bike, in Paris! Specifically, at Keep Portland Weird. Seriously, you're taking a trip to mini-Portland, in Paris. Get ready for:
How Did Portland Get So Creative? A Discussion: Calling out Stumptown innovations like "veggie burgers", "sports shoes", and "music", this is the perfect event at which to promote your own amazing veggie burger sports shoe music, under the guise of a question to a panel including an alt-weekly editor, a MusicfestNW programmer, and the curator for Portland Institute for Contemporary Arts.
Jon Raymond and Old Joy: After the PDX scribe reads his new short story, they'll screen Old Joy, giving you ample opportunity to impress Frenchies by shouting "I totally bike past that every day!" in literally every scene. Especially the part with the liquor store.
Concerts: The 10-day affair is packed with shows covering every corner of Portland music, like Tara Jane O'Neil's underground folk, the hip-hop beats of Lifesavas, and out-there sounds from AU -- which's what you'll shout to get the attention of the hot French model who you hope is also down for a ride.