Eugene just got way more comfortable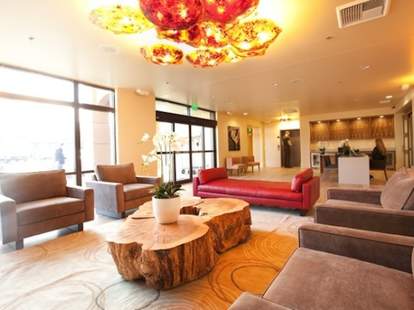 Just opened by a 2nd-generation cattle rancher/media baron to give you somewhere to ponder the artistic value of the Ducks' new jerseys the night before the game, 5th's a boutique hotel in the heart of Eugene that trots out an eye-popping array of amenities including in-room massages and James Beard-winning room service. It's already drawn guests like the Prince of Monaco and Phil Knight, but not Michael Knight, because he can't get his Dopp KITT in the door. Enjoy the:
Privacy: Rooms sport a private, enclosed "butler closet" to which room service delivers your mozzarella sticks, which will make it even easier for Kevin McCallister to keep spending money on his dad's credit card, to the hilarious chagrin of Tim Curry.
Food n' Drink: Beard-awarded Marche provides in-room grub, while the wine tasting room will also deliver bottles and cheese to your courtyard-facing balcony via a basket you drop down to them from your room with rod and reel. For reel!
Quiet: Sound engineers were called in to ensure absolute silence, with some rooms receiving up to three layers of sheetrock, also what you say when Dwayne Johnson asks you "what's under the big blanket on your bed?"
Tech: Every room's 42in TV is plugged into a one-of-a-kind nerve center allowing access to your Netflix account via a speedy connection, because the entire reason you came to Eugene in the first place was to finish season four of One Tree Hill.
Classy Game Transpo: 5th can provide a private party bus complete with a full bar to shuttle you to Autz, on which you can discuss the previous night's ruminations that led to your thought piece "To Diamond Plate or Not Diamond Plate: The Eternal Fashion Question."