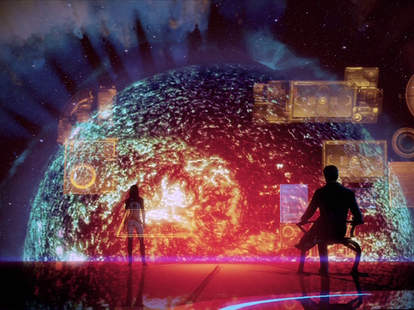 Given their abundance of fossils, you'd think that most museums would be petrified of video games. Those Smithsonians are proving you wrong though, with the Smithsonian American Art Museum's exhibit The Art of Video Games, opening this weekend.
Chronicling 42yrs of art-cade evolution, the exhibit features both still work and video footage of the genre's most influential designers (and platforms from Atari to PS3), with specific geek-pleasers like:
One playable game each from the "five eras", including Pac-Man, Mario, and Myst, which is sort of like Mortal Kombat, except instead of ripping out spinal columns, you walk around on a deserted planet and read people's journals. Finish them!!
Two film screenings in the Kogod (surprisingly not a video game character) Courtyard: Tron and The King of Kong, an actually incredible documentary about the clash between two men competing for the Donkey Kong world high score.
Video interviews with 20 developers and artists (assuming you can pull yourself away from reading that astronomy journal in Myst).
Industry leader discussion panels ranging from "Pioneers" to "The Future", where presumably video games let their kids play you in the basement while they have dinner parties.
The exhibit'll be around until September, but only this weekend will it feature live music from Triforce Quartet and 8 Bit Weapon, whose instruments are "an arsenal of vintage computers and classic video game consoles", so listening could potentially be the first time in a museum that you've got wood.