The classiest silo you'll ever see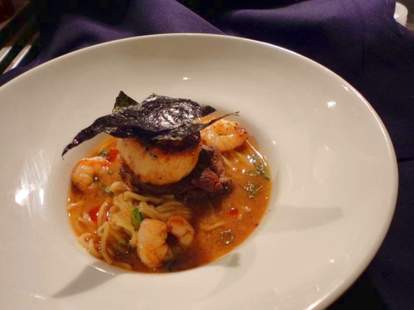 If you like short-lived sci-fi shows from Joss Whedon featuring really classy space-hookers, you will love Serenity in Gaslamp, though you won't be allowed in, because you're likely not wearing pants. The new lounge/ resto attached to the Harbor Club specializes in Asian-fusion and crafted cocktails, which they'll be serving in a bi-level, silo-esque space that looks like something out of a particularly swanky episode of The Jetsons, and features a second-level L-shaped granite bar, plus, on the ground floor, an octagonal bar and ginormous wine tower.
Because staying on theme is for sorority parties, the lunch menu sources from all over, with pick-em-ups ranging from a Thanksgiving-on-a-bun turkey burger with white-cheddar-cranberry spread, chicken gravy & shoestring onions, to a wasabi-spiced grilled salmon sando, to another with mango chutney and jerk chicken, which is like, "WTF do you care why I crossed the f-ing road?". If you prefer your vittles like your trash bags, hefty options include caramel pork belly with cucumber & chili bamboo shoot relish, sweet & spicy chicken stir-fry w/ cashews, or chocolate-sauced quail stuffed with quinoa and black currants.
On the boozy end, they've got said wine tower, a modest selection of sakes, and specialty 'tails/ martinis including the Volstead (rye/ Kronan Swedish Punsch/ OJ/ raspberry/ absinthe) and the tea-infused whiskey/ lemon/ honey/ lemon flambe "Season of Serenity", which previously had been relegated to DVD/BluRay.