Your new place to get cheesesteak pot pies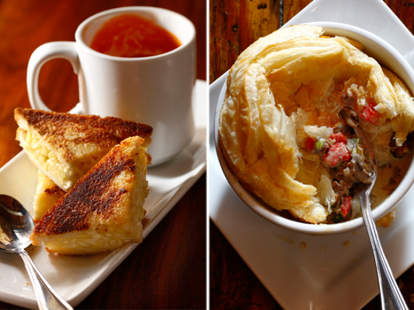 Tired of fussing with round holes, Square Peg's sliding itself into the old Marathon space on Walnut this Wednesday, with lofty guts of brick walls and steel beams -- perfect for housing Chef Matt Levin's assuredly larger-than-life menu of tweaked American faves, which has nothing to do with Gary Busey. Probably. Whatever.
Dinnertime'll bring out twisted staples (cheesesteak pot pie, meat loaf w/ Heinz 57-bacon marmalade) and signature "daily plates" ranging from a meatball sammich bread-hugging Italian goat cheese, to pierogies w/ bacon & buttermilk, to Korean fried chicken w/ "gojujang" chili sauce, which they'll presumably keep adding until you say "stopjujang". When it's time for drinks... so... like... now... there're crafty drafts and a cocktail program that'll glass the Beam-fronting Apricot Julep and bourbon/peach/sloe gin/orange twist Philadelphia Sling, plus hooched-up milkshakes including the Banana Split (w/ dark chocolate vodka, strawberry rum & banana liqueur) and the caramel whiskey & Tastykake-mixed Apple Pie, though say goodbye to too many of them and no one'll touch you deep inside... the day, the muuuuusic dies. Or any other day.
When they kick off lunch in two weeks, you'll have access to equally epic afternoon noms, like a mac-stuffed grilled cheese with drunken tomato soup, or as Gary Busey calls it, tomato soup.