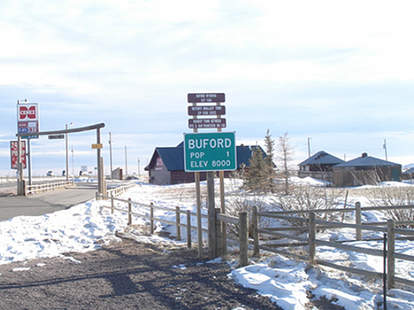 With its lone resident deciding to finally hand over the reigns, Buford, WY (aka, "The Nation's Smallest Town") is hitting the auction block, with the highest bidder taking over 10 fenced-in, zip-code-having acres between Laramie and Cheyenne, along with all of its buildings, furniture, PO boxes, and rich history as a fort built to protect transcontinental railroad workers, which was visited by Ulysses S. Grant, FDR, and Butch Cassidy. You're probably wondering "Why would I need a one-man town?", and of course the answer is "So you can emulate some of cinema's most iconic small-town despots", such as:
Brad Wesley from Road House: Use your powers to increase the lease agreement currently in place for Buford's cell tower, bringing a poor wireless company to its knees. Face punch literally everyone who passes through.
Tony Perkis from Heavyweights: Confound the 1000 or so daily visitors en route to nearby attractions by swapping out the Trading Post's current inventory of candy, jerky, soda & sunglasses with granola bars & sweatbands, then tell them "I used to f*** dudes like you in prison". Screw Heavyweights, Road House rules!
Ferris Bueller from, uh... Ferris Bueller: Start every day with a parade down the I-80 access road, past the 800sqft barn, the super-old wooden tool shed, and the historic schoolhouse, whose only student starts every day by playing hooky and throwing a parade.
Lord Humongus of Mad Max: Stock the 3.5-stall garage with weapons & a few supercharged vehicles, pump out a few lonely bench presses in the 3BR-house's sunroom, then think envyingly of Ulysses S. Grant. Being a despot is nice, but it would help if you had someone to have a civil war with.