The writing's on the wall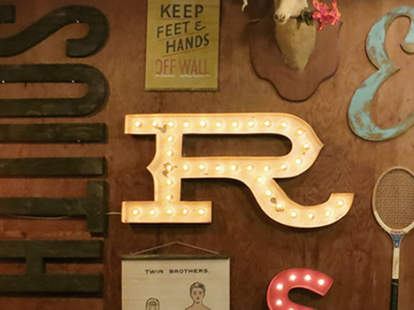 Launched by an Aussie designer so into vintage typography he decided to "bring it off the page" and onto your wall, Nashville's Sideshow turns out classy, customizable throwback prints & signs inspired by the entertainment industry, science, and the vintage educational charts that ignore it. What you'll find is art made from carefully aged canvas, salvaged wood, and bent steel that's been "speed rusted and banged-up proper", so you might find one of Mitch Mitchell's groupies amidst the:
Prints: Stretching textured canvas between two beat-up wooden rods for an old-schoolhouse vibe, twine-hanging numbers include a French periodic table, a hand puppet chart, and a list of some of history's fastest horses, especially appealing to "equestrians, gamblers, and novelists", because like too many horses, reading is lame.
Wooden Lettering: Cut from stained timber, these ready-to-ship pieces range from the "ghost town"-honoring cursive "Eatery", to block letters spelling out "SOUTH", but if you rearrange it, it can read... THOUS. Yeah, think about it.
Marquee: Expertly wired, shipped w/ bulbs, and made-to-order in the color scheme of your choice, these are made by taking "every measure" to replicate the original process used to make letters for Broadway, a place you generally only go in exchange for getting "banged-up proper".