Formerly Dirty 6th's filthiest locale (a title now held by Treasure Island), Midnight Cowboy operated as an actual brothel ("oriental modeling & massage") until it was shuttered by APD a year ago. Now Bill Norris has re-opened it as a reservation-required cocktail den that pays homage to its roots with a red light above the sign-less entrance and a statue they claim to be the patron saint of prostitutes, even though it looks nothing like Charlie Sheen.

The cocktails feature handcrushed ice and are crafted booth-side on dim sum-esque carts, with standouts counting Lindsey's Lament (single-barrel bourbon, Becherovka, maple syrup, salt tincture, orange oils), the Jinx Remover (Legendre Herbsaint, pineapple juice, Hiver Amer, tiki bitters, mint, grated cinnamon), and the TX blue-corn whiskey, mustard syrup, smoked paprika, and ginger brew Joe Buck, who is a filthy male prostitute, and a character in Midnight Cowboy.
Recommended Video
The Definitive Eggnog Recipe You Need for the Holidays
Previous Venue
Next Venue
Venue Description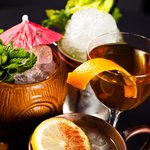 1. Midnight Cowboy
313 E 6th St, Austin, TX 78701
Once part of Austin's red light district, The Midnight Cowboy pays tribute to its former brothel glory as a reservations-only, buzz-in cocktail lair, where clients are encouraged to flirt with staff as long as they abide by house rules. Reservations are for two hours and there's a two-drink minimum per guest. With so many expertly crafted cocktails to choose from, you can't really go wrong -- some of them are even prepared table-side.