Your favorite meal, delivered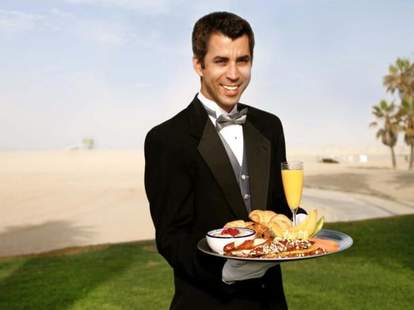 Already army-knife-popular in Switzerland, BrunchButler's a new-to-LA operation launching this Saturday that claims to be the first of its kind: a brunch delivery service that'll drop off epic late-morning meals at any house/office/tree fort in Los Angeles as long as it's west of Downtown (sucks to be you Diamond Bar!). Brunch-for-two options're available in three sizes:
Small: Clearly not named after 1995 Oliver Miller, this option comes with two shareable dishes (served w/ a La Brea baguette & sweet butter), including breakfast-benders like a yogurt bowl w/ seasonal fruits, or muesli (Swiss cereal) topped w/ local honey/dried fruits, plus lunch-leaners like an open-faced Black Forest Ham & Brie sammich, quinoa-stuffed Portobellos, and veal sausage.
Medium: This three-dish hookup adds dessert to the mix (chocolate molten cake, choco/cranberry cookies, tiramisu), plus awesome, not-available-in-the-small-package dishes like Scottish Smoked Salmon (w/ whipped cream cheese, pumpernickel bread & imported capers) and a maple & chili pork, which you knew was coming after all of that TLC.
Large: And in case you'll be sharing your brunch with 2012 Michael Sweetney, opt for this four-courser which adds a third savory dish and extra eats ranging from tuna tartare w/ wonton chips, to chile-ginger-glazed duck breast, to a chicken curry wrap sandwich, which sadly doesn't cost 50 cents. Or come with Eminems. Or Q-Tips.
In case there're more than two peeps, they also do catering, which means they'll do everything for you... and not those suckers in Diamond Bar.