A not-so-mobile dog slinger in Ballard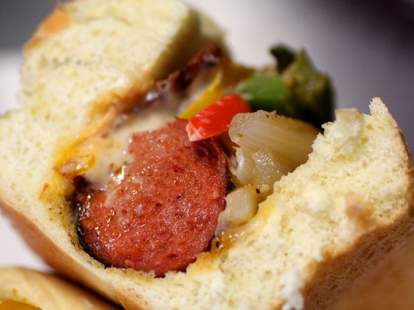 Offering to bring a Mexican "kick" to classic American meat tubes 22x stronger than Chun-Li's lightning version are the dudes behind Ay Chihuahua Hot Dogs, a flame-emblazoned food trailer now posted up Frank Brickowski-style in a Ballard parking lot.
ACHD's working with local producers, including Wallingford's Link Lab Artisan Meats, to bring you specialty dog options ranging from Chipotle Tequila Sausage, to Fremont Beer Bratwurst made w/ the brewer's marjoram/mustard seed-heavy IPA, to the Steak Dog, presumably inspired by Randy Jackson's answer to the question, "What do you order at Outback?". Other meat missiles include the The Works w/ bacon, cheese, grilled onions & peppers on your choice of sausage or dog, and a truck-made chipotle sauce-topped Hot Link, which're always awesome as evidenced by the fact that Alan Thicke's favorite email newsletter puts two hilarious examples of 'em in every story.
Once you're done laughing at cleverly chosen photos, take note that ACHD's got a handful of sides (potato salad, chips, etc.), as well as smoked chicken and veggie dogs, though ordering the latter in front of your friends might end up turning you into a Street Fighter, too.