East London gets fat and bouncy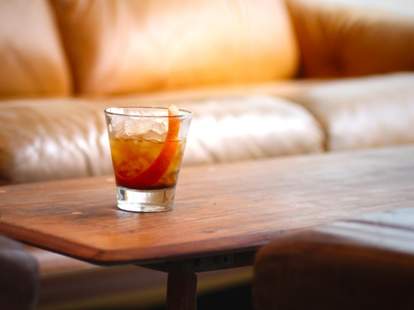 In the last few years, both delicious food and DJ-driven dancefloors have become Shoreditch staples, yet rarely under the same ready-to-be-raised roof. Changing that's Meter: a bright, second-story complement to James Priestley's upscale tuneshack CAMP, its marble mosaic floors and throwback couches suggest a retro design catalogue living room, while its by-the-meter pizza finally quashes imperialist 'za units like "slices" and "Hut buffet plates".
They've got rump steak, and veal meatballs, but again, that 100cm of Napoli-style sourdough is where it's at, in combos like fennel sausage/wild broccoli/chillies, or speck/walnuts/radicchio, and 'shrooms/ricotta/prosciutto crudo, which won't stop referring to itself as "the meat".
There is, naturally, a bar, where infused liquors (applewood-smoked tequila, apricot rum) plunge into mixeds like an almond-laced Whiskey Sour, a powerful triple-rum Blazer, and the Cranberries raspberry/black pepper/vodka Linger. A beyond-decent selection of local bevs, meanwhile, counts Bethnal Green pale ale, Kentish spiced cider, Hackney gold lager, and Shoreditch Blonde, whose recent popularity probably has a lot to do with the fact her roots are so well-hidden.