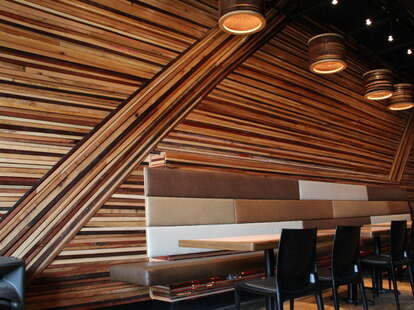 You shouldn't wear spandex, but definitely throw on your most stylish denim pants with a stretchy waistband before heading to Spin, which has soulfully upgraded the former Slice space with a mural of Castleberry & ATL's night skyline, plus walls made of rough-edged slats of scrap wood, to make what they're calling a "neoclassical pizzeria", guaranteed to make art scholars and more Jacob Ungery.
Get down on slices w/ dozens of topping choices (chicken sausage, goat cheese, turkey bacon), plus 12in and 18in garlic butter-brushed specialty 'zas including spicy BBQ jerk chicken, and the olive oil/ Kalamata olives/ feta/ red onion "Greek", perfect for when you're feeling particularly hazed.
Bigger plates that'll help you become the same: a French hoagie meatball sub, chicken pesto on ciabatta, and desserts like the s'mores pie, which gets a caramel & chocolate drizzle, confectioner's sugar, and "a slight touch of cayenne for heat", which should go well with any remaining saltiness from that Finals loss.
In order to bring craft beer to Peters St, brew professor Ale Sharpton was brought in to develop a stock that includes bottles like Founders Dirty Bastard, plus taps running Wild Heaven, SweetWater, and Heavy Seas Loose Cannon, which's what people will call you anyway, after showing up here in those pajama jeans.