A taste of the South hits the streets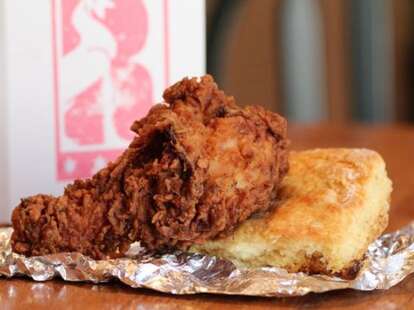 Sometimes you unexpectedly find yourself right where you belong, while other times a bunch of shrieking women just want you out of the ladies' room. Thankfully, the former was true for The Roost Food Truck's founder, a Carolina native who fell in love with Chi during a cross-country trip and decided to stick around and realize his destiny of roving the city slinging Southern staples culled from generations of family recipes.
The menu'll rotate weekly, but expect two permanent fixtures: flaky buttermilk biscuits, and breast/leg & thigh combos of fried chicken, which soaks up the flavor of buttermilk, garlic, onions, rosemary, and bay leaves in an overnight bath that weirdly doesn't make it pruney.
Meanwhile, sides and such that'll come in and out of the mix include pimento-studded mac 'n cheese topped w/ biscuit crumbs, spicy chicken & pork Brunswick stew (an American hunter's dish originally made w/ squirrel meat), and Charleston-style, chowder-esque she-crab soup, one of the few positive experiences you can have with she-crabs.
Wash things down with a bottle of pomegranate lemonade, and stay tuned for info on desserts like peach cobbler and lemon meringue pie, likely far sweeter than the pie you typically encounter when barging into the ladies' room.