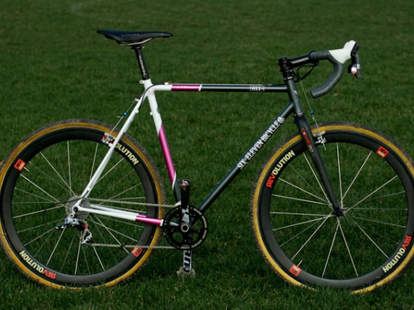 Because you're probably contracting more than a one-year commitment from Capital Bikeshare, why not get a shiny, sterile, custom cruiser from Six-Eleven Bicycle Co. instead?
Out of exotic Roanoke, VA (ooh la la!) and borrowing its name from the steam locomotive, Six-Eleven is helmed by a craftsman just yearning to tailor-make you a steel two-wheeler using skills taught to him by a Japanese master builder, so he even can build a roundhouse kickstand! The process is easy-peasy: pick a style (mountain, city, touring, or single-speed), then start going nuts with add-ons like "two-color wet paint", custom forks, engraved brass chain guards, and tubes "chosen based on your riding style", so if you're Chamillionaire, opt for one that can be easily cleaned. To get a sense of what you're in for, he's posted pics and descriptions of some of his latest and greatest commissions, which include a classic road bike with downtube shifters and a "vintage military" feel, a gray & black cross bike with a hollow seat stay bridge, and a matching pair of "his and hers city bikes", just when you thought it couldn't get any more embarrassing than a tandem.
If you'd rather just look like you ride a custom bike, he's got shop gear including pennants of the 6-11 train, and tees rocking the store's logo of a nail and a feather, both fine ways to catch a disease now that you aren't using Bikeshare.