Black label ham and fried sweetbreads in NoLibs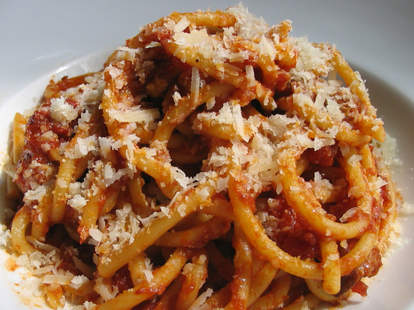 Roman for "the commoner", Popolino is the newest BYO from the dude behind Monsu & Modo Mio, who's converted the old Lafayette Bistro into a gentrified trattoria (white tablecloths, chandeliers, coffered ceilings) that nonetheless focuses on the quinto quarto, or "fifth quarter", typically served to Roman peasants, who, no matter how good it tastes, will still say it's offal.
Starters include plenty of crazy cast-off-rich antipasti like grilled calf's tongue & beet gremolata, fried calf's foot pate, and seared chicken liver & sausage, plus there's also the Tavole Calde: an interior-anchoring table of room-temp, waiter-serviced plates where you'll order (and pay) by weight for eats such as roasted carrots, artichokes, olives, chickpea/asparagus/walnut salads, and a huge, wallet-defying (it's expensive, yo!) chunk of black label Prosciutto di Parma secured in a massive ham clamp, a must-have when hunting the ever-cagey Kirstie Alley.
Bigger plates continue to fly the freak flag, including veal sweetbreads (crisped & served w/ exotic mushrooms), and "butcher's style" oxtail w/ celery & pine nuts, while more approachable mains count sweet & sour salt cod w/ prunes, a white wine & sage-topped veal cutlet saltimbocca, and seared skate wing & orange, so no guarantees its flavor will be Melo.
And because they don't expect any actual peasants, they'll also do a rotating $40 "prix fixe", probably the Roman phrase for "you're probably not going to order this, commoner".