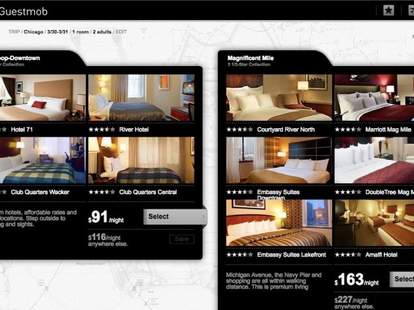 Even people who love a surprise don't want one when they're traveling, though everyone should know by now that Greenland is covered in ice, and Iceland is covered in equally-inhospitable-but-not-actually-icy volcanic rock. For a far more pleasant travel suprise, book a hotel room on Guestmob.
Getting you 20-50% off prices listed at Kayak, Guestmob analyzes supply & demand to determine "the magic price" for a room in any of the 20 cities they're currently in, grouping similarly ranked hotels and pitting them against one another for the right to fill an empty room with you, though you won't know where you're staying until the week before your trip. Plug in your dates and destination, and Guest'll present various "bundles" of four to eight spots in the same star-rating category, posting the guaranteed per-night price alongside how much of a discount it represents, and eclipsing Hotwire by identifying, describing, and providing photos of each individual lodging, as mystery bookings aren't exactly novel. Once you book a bundle, the caravansary kumate begins, and you'll receive an email identifying your exact digs the Thursday before check-in (unless you're booking just days in advance, in which case you'll receive it immediately).
Sweetening the deal even further, frequent users will get deeper discounts, and they'll fully refund any bookings so long as you cancel within three days of your stay, though people who love traveling don't generally relish the surprise of discovering that they aren't.