No, really: it's for sale, and you should buy it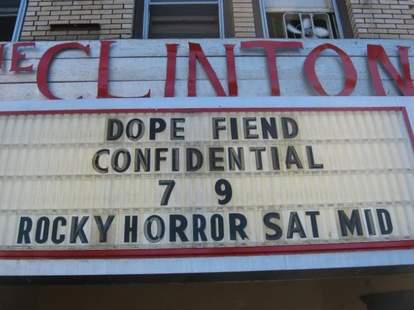 If you've ever said "I really want to own a movie theater that Crispin Glover once read terrifying Crispin Glover poetry in", then this is the one you've been waiting for! Fantastic opportunity for investors/Tim Curry-in-drag fans. Turnkey business -- keys will be provided for you to turn, to open the doors! Charming theater is an SE mainstay. Home to the "longest-running Rocky Horror Picture Show in the WORLD". Also home to the annual Bike Smut fest, which provides the rare and coveted combination of impressive cash influx AND adult movies involving bicycles.
9000sqft, spacious, high-ceilinged, and complete w/ fully renovated kitchen w/ popcorn machines and shelving to hold giant boxes of candy -- everything you've been looking for! Vintage seating is a handyman's/chiropractor's dream. Can double as a performance venue. As mentioned, Crispin Glover has read poetry here and freaked out hundreds of people! Ideal location next to Clinton Street Pub, in case Crispin Glover poetry drives you to drink. Theater is cash-flow positive. Low rent, and super-low overhead, except for the really giant ceilings. Price includes literally everything: 35mm and digital projectors, concessions, fixtures, and less-sexy Tim Currys. Asking $123,999.