Opened by a cat who "accidentally" started his first bike shop in a former lingerie shop (in which it was even more hilarious than usual to greet people with "what up bra"), Velo Cult's a cycle emporium just relocated from dreary ol' San Diego (staff included) into scrappy rough-hewn digs that combine social shenanigans (in-store bar and concert venue) with full-on repair facilities and retail.

The two halves of the bike-beast:

Velo: Like a strange reverse mullet, the joint's all party in the front and business in the back, where it stocks a full selection of bikes and accessories for cycling "subcultures", meaning you'll be able to score rugged Bianchi cyclocrossers, or simple, elegant city bikes from Linus. Almost every model's easily trick-out-able in Cult's signature style via hammered fenders from Honjo, shellac bar wraps, American-made bags and panniers by Frost River, and brass bells, which's what it takes to sell... well, brass bells.

Cult: Short for "culture" (or is that just what Heaven's Gate wants you to believe?), Cult made its 5Ksqft space a kickin'-it haven thanks to the aforementioned 12-seat bar, soon serving craft beer on draft/ in bottles and tamales you can enjoy in the lounge, a photo booth that streams pics to their website, a repair zone with tables so you can get lubed up while chatting with the dude doing the same to your bottom bracket, an actual drawbridge taken from Canterbury Castle that lowers to create a stage for live music, and a projection screen for bike flicks -- so ironically, you'd have to be a total boob not to go here.
Recommended Video
France's Fête des Lumières Is a Light Festival Unlike Anything You've Ever Seen
Previous Venue
Next Venue
Venue Description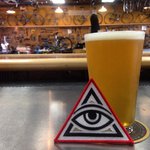 1. Velo Cult
1969 NE 42nd, Portland, OR 97211
Velo Cult is a cycle emporium that relocated from its San Diego digs to this scrappy rough-hewn Portland spot, which combines social shenanigans with full-on repair facilities and plenty of retail items. It's a bike shop, taproom, coffee bar, and music venue all in one, and welcomes both you and your canine best friend. With bikes, beers, dogs, live music, and film screenings, Velo Cult is about as Portland as it gets.