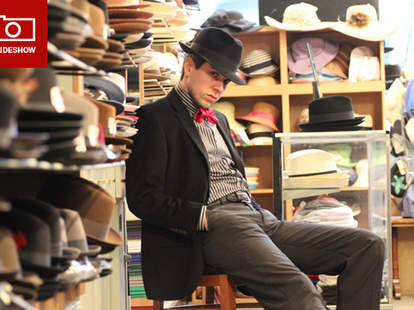 Spring in Portland can be grim, and not even the kind involving some sort of person-beast doing something that makes no sense.
To make life a little happier, and make you look better than that person-beast, we had the lid-lovers at John Helmer use their century of menswear knowledge to hook up a classically modern look that'll get you mistaken for a "star" like David Giuntoli in no time. Now, hit our deep slideshow to get the entire, actually digestible story.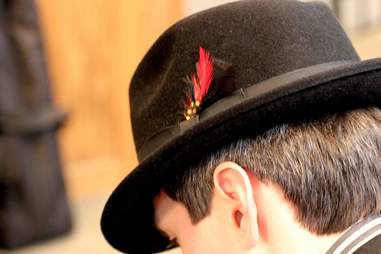 Custom-made for Helmer, The Silk is, sensibly enough, a wool fedora with a velveteen-ish finish, ensuring your story ends in much happier fashion than that rabbit's.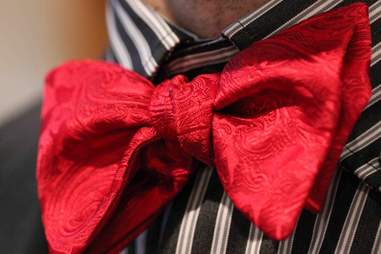 This 100% silk red paisley bow from Colorado's Carrot & Gibbs adds a pop of color to your two-tone affair, and contrasts the striped shirt. (Note: This does not work as well with your Stryper shirt.)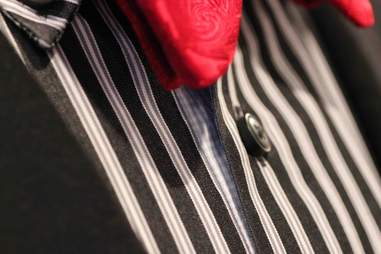 Enjoy the bold stripes of this 100% cotton longsleeve from German brand Haupt, which translates to "head", so congratulations on that.
Portland springs are notoriously chilly. Enter this two-button, single-breasted cashmere diddy rocking six interior pockets along with contrasting burgundy piping, which'll make you kind of a big deal.
Yes, it's a throwback look, but these slim, flat-front charcoal slacks boast serious nanotech to keep them unwrinkled and unstained, although lord knows you'll try.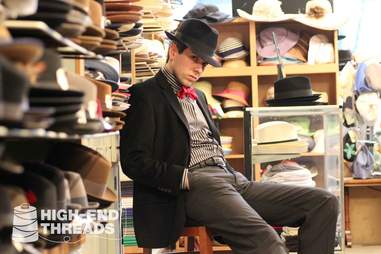 All in all, it's a modern take on classic British-American style meant to "look good 50 years from now", even if you personally happen to look really, really old and crappy 50 years from now. Go get it from John Helmer.