Real boozers don't drink automatic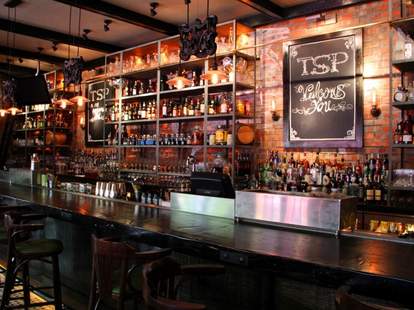 Tomorrow night, the folks behind Sfuzzi soft-open The Standard Pour, a brick-walled testament to anti-Prohibitionist sentiment centered around an imposing, Edison-lit wooden bar backed by industrial-metal liquor shelves and chalkboard specials, Chalke-bored specials being "actually sexing Zach Braff". They've tapped Bar Belmont's Brian McCullough to fill out cocktails including:
Founding Fathers: It's a cinematic crime that at no point in HBO's John Adams did Paul Giamatti plow through Manhattans, Mint Juleps, Sazeracs, Trolley Cars, and a drink called "The Standard Pour", with rye, house vermouth, Benedictine, and root beer & orange bitters.
Sours & Fizzes: Get fizzy with the Ruby's Kiss (rosemary-infused gin, strawberries, rhubarb bitters, egg white, sugar cube, rose sparkling), or sour (in a good way) on the Blood Orange Bourbon, with Maker's, blood orange bitters & puree, lemon, simple syrup, and egg white (good old Betty: still funny, still ovulating).
Swizzles & "Big & Bold": Reel in an Old Man and the Sea (rum, grapefruit, house & orange bitters...), go vigilante on an Oswald (Bulleit rye, Disaronno, flamed & bitter-treated orange wedge), or lie down with the mezcal, Stone Pine, Cointreau, Angostura, absinthe mist & burnt rosemary Gringo in a Pine Box.
They're also running a wildly ambitious food program, trotting out strange stomach-fellows like poblano-jellied lobster nachos, Budin Azteca (queso fresco, chicken, mango), the Cab Burger (served on challah w/ a quail egg), and pho -- a noodley reminder that any government that prohibits you from drinking is not your friend.