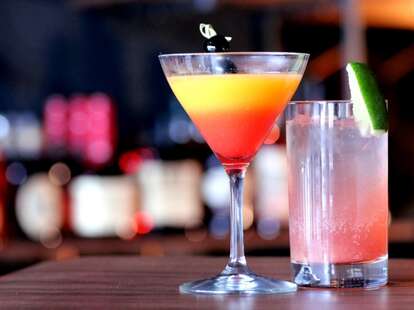 People tend to like places that take inspiration from past eras, which is why it's so shocking that the witch-drowning chair at Wild Waves hasn't been a financial game-changer. Drawing heavily on an era only slightly less misogynistic than 17th-century Salem, the dudes behind The Gerald.
Taking over the former Elephants Gerald t-shirt shop in a way even DJ Khaled could admire, this latest Ballard Ave boozer pays homage to the jet-set '60s with its list of Golden Age cocktails & period foodstuffs, plus a mod-ish interior decked with inky blue patterned wallpaper, and a light wood bar backed by geometric shelves & hexagonal mirrors. Hooch-wise they're doing things like a gin/vodka/Lillet/rosemary Vesper, the bourbon/fresh-squeezed lemon/Cointreau Silent Third, and rotating takes on old classics via a Nightly Highball, otherwise known as the Sam Perkins pick-up b-ball league. Eats mean apps (fresh popcorn w/ truffle butter, housemade-sausage Pigs in a Blanket), sandwiches (Swedish Meatball Sliders w/ arugula & sour cream, a smoked gouda Grilled Cheese w/ house chorizo & tart apples), and rotating mains from chicken pot pie to Urban Meatloaf, which presumably would do anythin' fo luv, but it won't do dat, do dat, do do dat dat dat.
On weekends, Gerald's doing brunch, with options ranging from a Farmer's Market Omelet, to an appleslaw and maple butter-topped fried chicken sandwich bookended on either side by a waffle, something you definitely can't do once you ultimately decide to drown that evil spell-casting witch.