Santee's best-kept secret moves west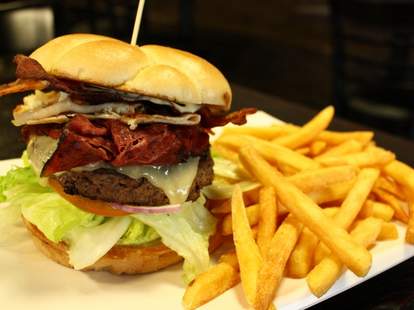 Staking its claim squarely between Mama Jamaica and Elbow Room, AFB's the patio-sporting second location of a gourmet patty slinger started by a Korean lady named Anny and her brother, who're using burgers to chase the American dream -- a savvy move, as they're also the most common food eaten during Americans' dreams.
Pure angus 1/2lb patties grace stacked works of art like the Hot N Spicy with chopped chipotles/ pepper jack/ spicy mayo, the blue cheese-topped Patriot with grilled onions & roasted red pepper, and the baked pastrami/ turkey/ bacon/ Swiss/ honey mustard Monster, which Charlize Theron would kill for. If you're more of a Stone Temple Pilots/Soundgarden-type eater, they've got alternative burgers like buffalo chicken both marinated and topped with the spicy stuff, a Korean BBQ cheesesteak with onions/ green pepper/ cheddar/ parmesan, and a tartar-sauced fried tilapia.
Don't like burgers and/or alternative music? Well, you're not invited to karaoke, but they will whip you up a foot-long wiener like the Cobb with bacon and blue cheese, or the Anny's with grilled onion, jalapeno, bacon & spicy mayo, though if you think you'll chase down any American girls after that, you're likely dreaming.