Like confused afternoons in the wardrobe room at theater camp, Spring is a time for dressing up. To that end, we asked the rakish gents at Streets of Georgetown to assemble an outfit so outstandingly handsome, the only question you'll be pondering is "how am I getting this much attention without a feather boa?".

Hit the link below for a step-by-step breakdown of the six fabrics and five pieces that'll make you look every bit as cool as that mysterious, faceless gent in the picture.
Recommended Video
Hopsy Gives You Fresh Beer From the Tap in the Comfort of Your Own Home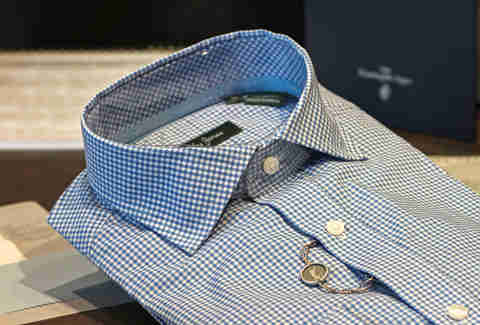 Despite its Tar Heel-esque baby blue, this spread collar shirt's a winner.
These polarized black shades have a "keyhole" design, so throw them on when you need to lock it up.
Cut from walnut-brown leather, this thing makes looking good a cinch! Unless you're quite heavy, in which case looking good will require several cinches.
Since your torso's been good, reward it with this two-button herringbone jacket made from cashmere and silk.
With achingly subtle, white pin-dot stripes, these trousers are made from a wool-linen blend.
Pick it all up at the Streets of Georgetown, and look like royalty, even without a tiara.