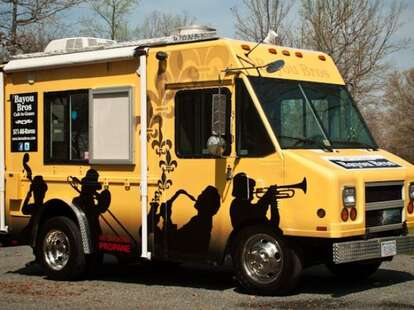 Offering you a serious New Orleans bounty that'll only sideline you if you eat way too much: Bayou Bros "Cafe to Geaux", a saintly food truck set to start cruising the District streets Monday. Run by two "Cajun country" boys and a 20yr Marines vet, the truck is more artistically inspired than most (with silhouetted jazz musicians offset against a golden NOLA backdrop), and wants you to tackle lunch options like:
Authentic Cajun Jambalaya: With sausage, chicken breast, and ground beef, it's got "just enough spice to make you smile", so clearly not Scary or that one with that thing going on with her grill.
Sauced Shrimp Po'Boy: Fried shrimp gets tossed in their closely guarded "Swamp Juice", though almost by definition, it can't be fresh squeezed.
Fried Alligator: From a truck?! This tender 'gator meat is deep-fried and layered in spicy Cajun remoulade, and stuffed in a bun, which means they missed a prime opportunity to name it the Death Roll.
Roast Beef Po'Boy: You probably don't want alligator meat every day, so they've also got slightly tamer, thin-sliced roast beef dressed with mayo & pickles, and "drenched in its own juices."
And if you get that early morning hankerin' for something swampy, they're also doing breakfast in the form of burrito-ized jambalaya wrapped w/ egg, and grits/ hashbrowns/ eggs/ and bacon "piled into a cup", which is actually something you should probably be wearing given Louisiana's rep for dirty hits.