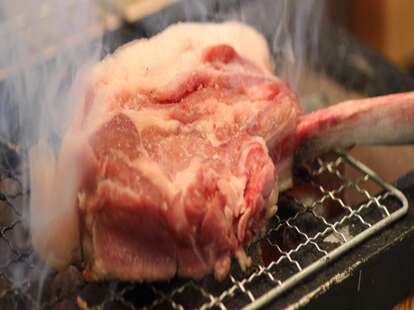 Adding twice the name and removing all of the Inner Richmond, Namu Gaji's the new Dolores Park-borderer from the three (actually related!) bros behind since-shuttered Namu: an S'bucks-sized resto with dark beige & green tones, a large, partially live-edge communal table, and bay laurel counter seating equipped with park-facing windows, not ideal for those looking to get their Mac on.
The menu's broken down into raw platters (oysters, scallops, or halibut), "Crispy" items (potato puffs w/ parmesan, fried garlic & gochujang aioli), and grilled meats (house-butchered pork chops, pickled beef tongue w/ spring onion), plus they have "large format" dinners like the Bo Ssam (pork belly, oysters, napa cabbage, daikon, ssamjang, cucumbers, kimchee), which's intended for 4-6 people/one Kirstie Alley.
And because Kirstie Alley's going to need something to wash down that large format dinner, they'll serve sake (including the only rice wine ever consumed by Kim Jong-il), house-label vino, and beer, which'll include both bottles (Miller High Life, 21st Amendment Bitter American, Harviestoun Old Engine Oil Black Ale) and, very soon, taps like unpasteurized Asahi, Dying Vines Hop Candi, and a brewed-especially-for-NG rice beer from Magnolia.
Once it gets a little warmer, they'll be offering park-appropriate shaved ice to-go made with homemade syrups (dulce de leche, real fruit, red bean), and taking prix fixe reservations for their low, sushi-style, grillside seating, where the chef'll make you a custom meal based on exactly what you like -- if you want to be PC, don't ask for Apple.