The delicious first stage of the Culy Warehouse transformation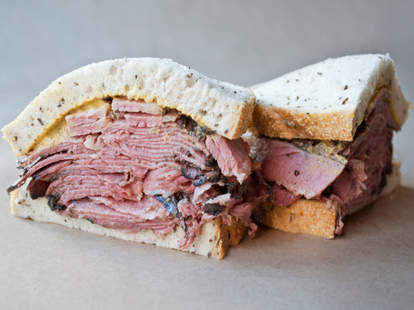 The first completed section of the Culy Warehouse's clubbing/ dining/ event-ing space, Lucky's Lunch Counter is an open-til-3a, Andy Benes-throw-back-style diner with old school pictures of you with braces, resting your chin on your hands ball players covering the walls, a room-spanning counter, and coming soon, a patio barely out of the shadow of the Ballpark, though to be fair, nothing associated with the Pads casts that long a shadow.
The entire menu's served all day/night, so get ready to stumble towards:
Breakfast Stuff: AM-style eaters can get down on classics like build-your-own breakfast burritos with three eggs, hash browns, and pick-three stuffers ranging from bacon & salsa to pepperoncinis & grilled chicken sausage.
Chrissy Russo-Caliber Hot Dogs: They've got split n' grilled snausages like Lucky's Ballpark Dog, which can be topped with everything from coleslaw to Swiss cheese, and is "perfect for game day", as Stratego is exceedingly difficult to play on an empty stomach.
Sandwiches: The menu's jammed with "overstuffed" hots and colds including the vaunted Tyrone's Midwest Crispy Pork Tenderloin Sandwich served McRib-style with pickles and onions, though if you want other sauces, you're gonna need to calllll Tyrone. Or, you know, tell your server.
Even though you're already made up of at least 60% liquid, they're encouraging you to up that percentage with Crater Lake Root Beer on draft and four, mostly local taps including Mission Hef and Ballast Point's Yellow Tail Pale -- consume too much, and you can expect that shadow of yours to go from long to wide.