Eating, drinking, and keeping cereal weird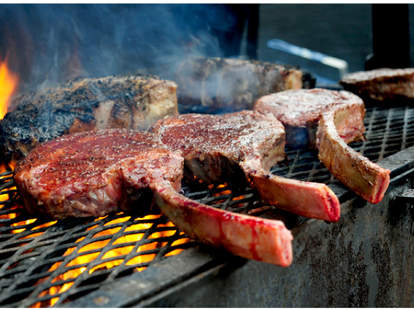 The first-ever collaboration between event-titan C3 and Food & Wine magazine will fill Auditorium Shores with tutorials and tastings led by star chefs ranging from Uchi's Tyson Cole to Iron Chef's Morimoto, a man it ironically takes a lot of brass to challenge. Devour your way through this kitchen-game-raising cross-section of the three-day full slate:
Start Your Day: Cereal: It's Not Just For Breakfast Anymore The woman behind "one of the most exciting bakeries in the country", Momofuku Milk Bar, shares her tips for becoming the Captain of Crunch.
Gather Supplies: Grocery Store Greats Sommelier Josh Wesson, who began racking up nationwide acclaim the same year Danny LaRusso won the All Valley Karate Championships, gives advice on picking the best bottle the aisles have to offer.
Pre-Game Snack: Junk Food Personified Get the dirt on flipping guilty pleasures into dishes to be proud of from Barbuto NYC's Jonathan Waxman, called "the Obi-Wan Kenobi of the culinary world", so you know he's tight with Padma.
Get Loaded: Stocking and Tending Your Home Bar Vegas alcohol legend Tony Abou-Ganim teaches you how to turn a regular, everyday cabinet into a liquor cabinet.
Learn to Flightless: Birds of a Feather Top Chef Master Marcus Samuelsson shows how to prepare an Ethiopian stew and fried yardbird, thus killing two birds with one stove.
Primi Piatti: The Art of Italian Pasta A James Bearded Chicago starch king will demo pasta from scratch, and teach you how to track down the best dry Italian imports.
Smoke Break: If You Can Eat It You Can Smoke It Elizabeth Karmel, exec chef of Hill Country BBQ (an NYC/DC ode to Lockhart), demonstrates that a stove-top smoker can be more than just an unattended dish of stuffing.
Buffet: Grand Tasting Overwhelm your palette/belly with 80 offerings from regional vendors and local chefs who've found the Qui to success.
Recover: Hair of the Dog American Bartender of the Year winner Jim Meehan will train you in the art of parrying the previous night's assault -- though it helps if you've got a stomach made of iron.