You're Invited: Guinness Believer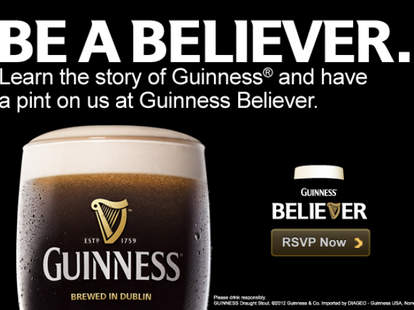 What: Lose your fear of the dark, and attend Guinness Believer, where you'll be steeped in a legacy over two-centuries in the making. With the help of a Guinness Ambassador, you'll experience a multi-sensory, multimedia retelling of the brand's history, the story of each pint's creation from barley to brew, and complimentary samplings of the Guinness you love -- Draught, Lager, and Foreign Extra Stout.
Where: The local temple of tipples, otherwise known as a killer venue near you
When: The time to ferment is now -- click here for details
Why: Because heaven is a 19.5-second "two-part pour," for ideal levels of thick-headed creaminess
Follow the link below to RSVP, or be forever banished from the Biergarten of Guinness.