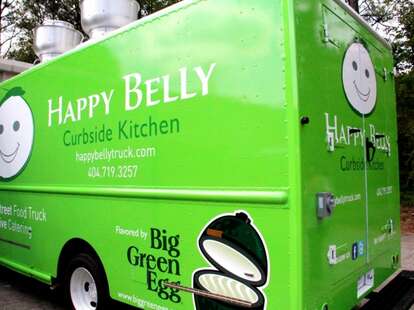 No, it's not a Disney film directed by Hype Williams, but Happy Belly is ATL's newest lime green, smiley-face-equipped food truck, and the only one on earth with a Big Green Egg (according to them, so it's, like, definitely true). Also uniquely for Atlanta, it boasts the ability to fry, sauté, bake, and flat-top grill, sure to attract Dick Tracy.
Nothing's over $10 despite the almost all-local/ -organic produce and meats, which're roasted for 4-12hrs over hardwood charcoal in the BGE, before being turned into the short rib Georgian burger w/ Vidalia onion chutney, ancho chili dressing & cheddar, and the lingonberry coulis/celery apple slaw/blue cheese Jive Turkey on wheat loaf, to ensure nobody thinks it's too whitebread.
To those you can add sides like homemade fries, crispy baked kale chips, and panko-crusted zucchini, or get "Fire & Ice" grilled shrimp skewers w/ chilled roasted salsa and sautéed zucchini noodles w/ chilies, basil, pine nuts, and chicken called "Go Paleo", not to be confused with OK Go Paleo, a band that made videos where they just stand next to each other on rocks, because treadmills hadn't been invented.
Belly'll be rolling to Kennesaw Depot on Monday, and will be all over the city, inside and out, after that. The ordering setup's also pretty innovative: as you're waiting, they'll take your order via iPad, but after handing out menus while showing a Little Face.