Plays on words... on pictures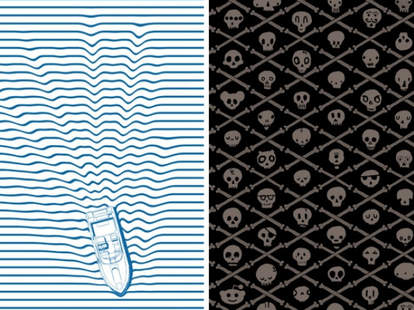 Hilarious puns should really only be attempted by two types of people: handsome, men's lifestyle newsletter writers who moonlight as fighter pilots and are great-looking, and Phil Jones. An advertising creative by day, Jones is "obsessed with bad puns", and builds off them when illustrating visually compelling imagery perfect for:
Decking Your Walls: The bulk of his work's available as prints and stretched canvases, like the two remotes crossbone-style below a technicolor skull in "Dead Air"; "The Sword is Mightier Than The Pen" with an armless & bloodied mighty black knight (his fave Monty Python character) with a fountain tip for a torso; and the epically odd man/woman collage that is "Nature Freak", also what man-woman combos call getting jiggy whilst camping.
Decking Yourself: T-shirts include the cheekily blasphemous "Cheesus", whose original design was made with cheese from a can; "Wrestling Match", which started with him detailing a lucha libre mask on a match head for kicks; and the Rorschach-esque "Optimust", which presumably plays on psychologists' tendency to assess every stupid little event as "transformative".
And if you just sort of like to watch, his website's also full of high-quality photos detailing some of his 3D work, like a coffin-shaped tissue box (complete with Kleenex ghost) titled "Coughin", and a whole awesome series of telephone pole fliers, which're almost as cool as the handsome high fliers who sexily write charming e-newsletters.