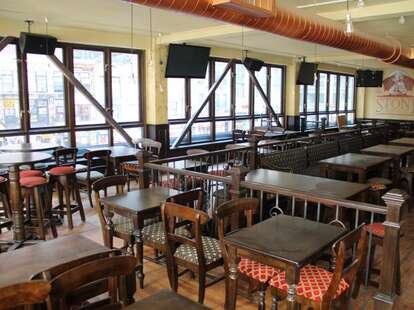 From uncles to pledge masters, life's authority figures love them some beer, but if you're looking for a sudsy beacon that won't make you chug a brew from its butt crack (... Uncle Tony), head to Midtown's massive Beer Authority
Like a Parthenon of pints, BA's comprised of a growler-slinging, Irish-pub-like ground floor, a forthcoming rooftop, and, between them, what feels like the tasting room of a mod brewery situated in a skyscraper office, where dangling copper lights and exposed ducts are illuminated by massive windows, and rows of taps elevate the spirits of those in the elevated seating. Of course it'll be difficult to focus on any of that after making a run through the seemingly unending lineup of ass-kicking beers flowing the 80 taps, 100+ bottles, and smattering of casks, including:
Avery Maharaja (draft), an early Spring, high-ABV Imperial IPA with an "insane amount of malted barley"
Dogfish Indian Brown Ale (draft), a "magical" cross between a Scotch ale and an IPA, and "the original hybrid" (continue to suck it, Fred Durst!)
Midnight Sun Sockeye (bottle), a "gnarly" Alaskan that tastes of Centennial, Cascade, and citrusy Simcoe hops
Cigar City Maduro (draft), a "sessionable" brown ale with "roasted, toasted, and chocolate components"
Smuttynose Big A (bottle), a winner at The Great British Beer Festival, and, much like two OTPHJs at the same time, hard to find in spite of being "everything you want only more"
RJ Rockers Black Perle (bottle), as if the list wasn't already Depp enough!
They'll also have appropriate pub food, and expect live music that skews Irish, including a U2 cover band, who share with Uncle Tony the fact that they still haven't found what they're looking for.