Your iPod: now an expert personal trainer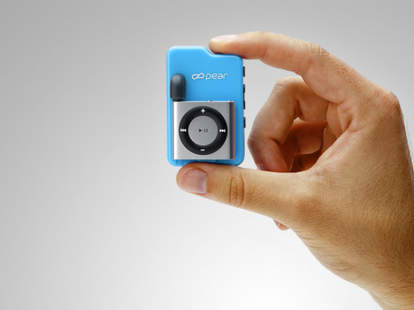 No longer just the way you describe that husky guy in accounting, The PEAR Square One's also a tiny iPod-connecting gadget that's basically a very very tiny personal trainer -- it shouts instructions, monitors your vitals, and analyzes your workouts, all from the comfort of your shorts pocket, or if you're John Stockton, short shorts pocket.
Here's how it works: you'll enter your vitals online (height, weight, etc.), don included gear (a wireless heart rate monitor and shoelace-clipping odometer, plus the arm-strapping iPod-connecting master device), do a test 20min routine, and then sync the master with your computer. It'll compute how out of shape you are, and let you pick a fitness goal like "run a marathon", "lose weight", or "make it through Olmec's temple in under three minutes." That done, select a tailored-to-your-goal workout regime, and the device'll start pumping out real-time assessments and instructions from a virtual coach, like "You're in the right zone" or "Speed up to zone 4 for 15min." or "Seriously, put down the Chili Cheese Fritos. Or, at least share, dude".
Once you finish off that bag of Chili Cheese Fritos, plug the PEAR back into your computer for workout analysis, tips & advice they're sourcing from fitness pros nationwide, a group that definitely won't be short shorts on advice.