The term "culinary institution" isn't generally synonymous with "trailer", but only because no one at the latter knows what "synonymous" means, and... college boys ain't welcome here, git out! For a shining hunk of metal looking to prove that trailers can cook up more than just the finest meth: Black Crow. A retrofitted Airstream dropped onto Rio Grande's LoDo patio with a crane, Black Crow's got a walk-up window serving Mexican street food 'n street booze, which you can enjoy in the outdoor spot now fitted with picnic tables, benches, and lanterns to make it "feel like you're camping", so remember to hang your leftovers in a plastic bag from a tree, lest they attract bears from Hamburger Mary's. Snack on "Hankerins" like a take on a Frito pie with housefmade corn strips slathered in chile con carne, cornmeal-breaded/cheddar-stuffed/deep-fried jalapenos (served with poblano ranch dressing for health reasons), and Mexican street corn ("elote") that's been "traditionally dressed", though you'll also want to drape yourself in a poncho after all this food makes you insanely fat. Full-on feasting comes by way of corn tortilla tacos (barbacoa, grilled chicken/ jalapeno-mango hot sauce, or pork/ green chile), a Mexican shrimp po' boy with avocado & dill pickles, and grilled chorizo or cilantro lime-filled tortas, which ravenous Mexican legislators are always trying to reforma. To wash it all down, they're serving Rio's beloved margs, shots of Cuervo/ Milagro/ Patron, cans of Tecate/ PBR, and tallboys of Modelo Especial, just don't go thinkin' you're all especial cause yer gone and got your college degree, and if you don't like it, well you can git out!
Recommended Video
This Taiwanese Street Food Gets a Southern Twist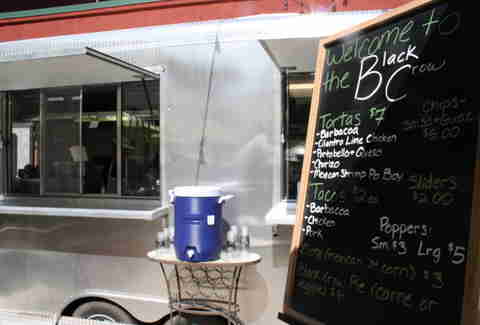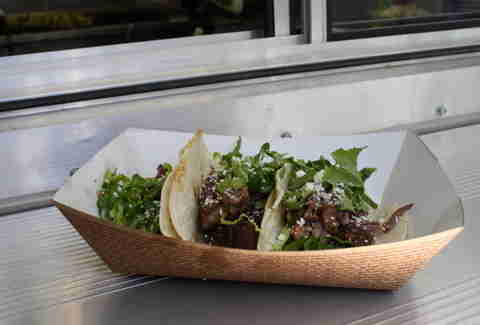 Previous Venue
Next Venue
Venue Description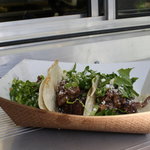 1. Black Crow
1525 Blake St, Denver, CO 80202
Black Crow is a food truck located right outside the Rio Grande Mexican Restaurant in downtown. From a retrofitted Airstream BC is serving an impressive selection of tortas (barbacoa, chorizo), tacos (pork, shrimp), and all the necessary sides like nachos and Mexican street corn, which, no, isn't slang for some sort of narcotic. It's also got on-site outdoor seating where you can enjoy your food, choice of tequila shots, and some sun.